Hollywood Rip Ride Rockit
Edit
Hollywood Rip Ride Rockit

Park section

Production Central

Park

Universal Studios Florida

Status

Operating

Opening date

August 19, 2009

Height

167 ft

Speed

65mph

Duration

1:45

Soft Opening date

August 16, 2009
Hollywood Rip Ride Rockit is a high speed rollercoaster at Universal Studios Florida, located in Production Central ever since August 2009.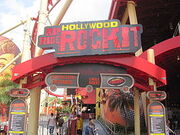 Track layout
Edit
The layout for Hollywood Rip Ride Rockit was initially revealed during Universal Studios' 2008 Grad Bash events for graduating high school seniors, and was confirmed by Maurer Söhne through its release of computer-generated images of the roller coaster track.[[|[14]]] The station is located between two existing facilities, Soundstage 42 and the Sharp Aquos Theatre in Universal CityWalk. [[]]EnlargeA train ascending the vertical lift.The station features a moving sidewalk on the loading platform. According to the designers, the riders have about 45 seconds from the time they step onto the loading platform to be seated, lower the lap bar and make their music selection before the train is dispatched.[[|[11]]] The roller coaster departs the station and climbs its 167-foot (51 m) vertical lift, reaching the top in just over 16 seconds.[[|[15]]] It then drops to the ground before entering the "double take," a circular element 103 feet (31 m) in diameter which looks like a standard vertical loop, but the track twists around at the top of the loop such that the train is right-side-up when descending the loop.[[|[3]]] The train descends and twists again on the way down then climbs to reach the first of several mid-course brake sections. [[]]EnlargeThe "non-inverting" loop elementThe roller coaster exits the brakes and drops back towards street level, passing through the building of Twister...Ride it Out. This is where the ride photo is then taken. Then the roller coaster enters a series of swooping curves called the "treble clef". From above this section appears to have been inspired by the musical notation of the same name. The train climbs the treble clef and exits into another mid-course brake section. Now returning towards the station, the roller coaster enters a series of sharp turns. The first, nicknamed the "jump cut," is a unique element similar to a corkscrew, but without turning the riders upside-down.[[|[3]]] The second is the "crowd surfer," an overbanked turn that passes over portions of the queue line for the attraction.[[|[15]]]
Hollywood Rip Ride Rockit then enters another mid-course brake section before it prepares to exit the park grounds. It next encounters "drop tuning," named for a type of guitar tuning, which is a quick drop into a landscaped area in front of the Sharp Aquos Theatre. Emerging above the ground, the roller coaster enters a 540-degree helix nicknamed the "plot twist". After the plot twist, the coaster enters its last brake section and makes a small drop called the "chorus" and then ascends again onto the brakes that slow down the train before entering the station.
Community content is available under
CC-BY-SA
unless otherwise noted.